LPVR-AIR: Wireless location-based AR/VR Tracking Solution for Immersive 3D Visualization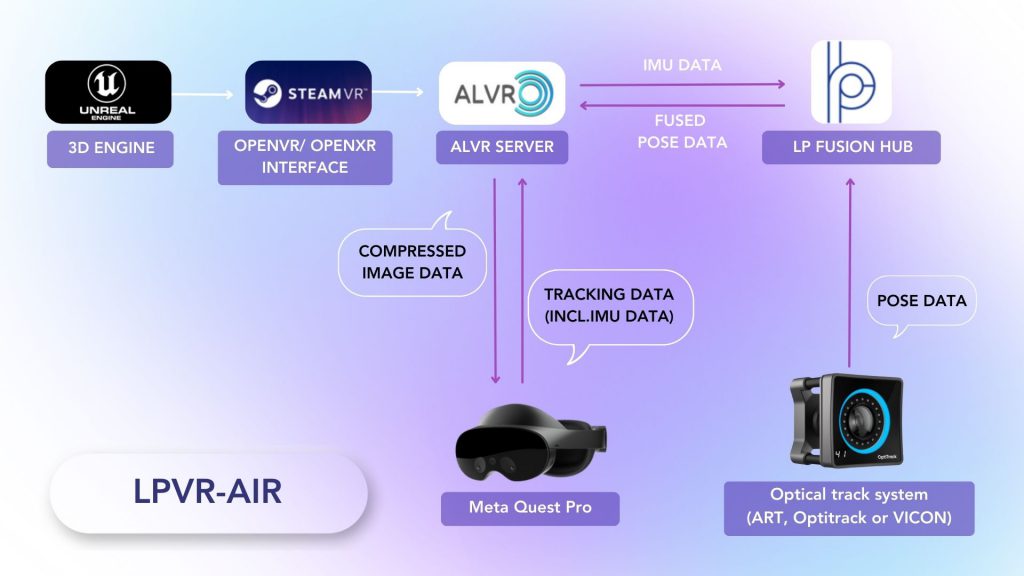 LPVR-AIR provides all the features of the LPVR-CAD* system, along with the added advantage of wireless streaming of image data from a SteamVR application such as Autodesk VRED to the Meta Quest 2 or Pro.
*LPVR-CAD is a location-based VR tracking system that supports room-scale tracking. These systems can track not only the head and controller motion of a user in a stationary position but also support free, room-wide motions. However, for multi-user, location-based VR applications such as arcade-style game setups or enterprise applications, larger tracking volumes are required.
LP-Research's FusionHub software, in combination with the open-source application ALVR, provides a perfect solution for this. By default, ALVR uses Meta Quest's internal inside-out tracking for pose calculation. With LPVR-AIR, Quest's native inside-out tracking is replaced with combined IMU and ART/Optitrack outside-in tracking, enabling simultaneous, spatially synchronized operation of multiple HMDs in large tracking volumes.
To make FusionHub's tracking functionality available to standalone augmented and virtual reality headsets, it is integrated with Android-compatible OpenXR HMDs, using a customized version of the ALVR open-source project. ALVR enables wireless streaming of imagery from a host computer and interfaces with 3D content engines through SteamVR. While the original ALVR client was built to work with Meta Quest HMDs, ALVR works with any OpenXR compatible headset.
Supported HMDs
Meta Quest 2, Meta Quest Pro
Customization to support further devices (Meta Quest 3, Apple vision Pro etc.) on request
Specifications
| | |
| --- | --- |
| Product name | LPVR-AIR |
| Compatible HMDs | Meta Quest 2, Meta Quest Pro, (Meta Quest 3) |
| Compatible optical tracking systems | ART, Optitrack, VICON, VRPN-based tracking solutions |
| Compatible software | Unity, Unreal, Autodesk VRED, all SteamVR-compatible applications |
| Controller support | Meta Quest controller |
| Inertial measurement unit | LPMS-CU2 with VR firmware |
| Position accuracy | 1-10mm (depending on optical tracking setup) |
| Rotation accuracy | 0.2° |
| Tracking latency | Zero latency (using head motion prediction) |
| Tracking space | Unlimited (depending on optical tracking setup) |
| Driver software | OpenVR driver |
| Update rate | 800Hz |
| Operating system | Windows 10 with latest SteamVR environment |
| System components | IMU sensor, HMD marker holder, hand controller marker holder, accessory cables and screws |
| Licensing | License dongle |
Order
Product
Package contents
Price
LPVR-AIR
1 x Security dongle
1 x HMD marker holder
1 x Maintenance contract 1year
Contact us